Déjà Vu
When the alarm goes off at 6:30 am, it's still dark in the tent. Once again, we're both reluctant to loosen the drawstring around the hoodies, break the seal on our sleeping bags and make contact with the arctic air of this November morning. Once we finally do, it's immediately clear that this morning is EVEN COLDER than yesterday. There's only one way to handle the cold: get up, get dressed, get moving and don't stop. Generating body heat is essential, so we move as quickly as possible as we set about our usual tasks. And when that doesn't work, we duck back into the tent to drink some hot tea and coffee.
Our first challenge of the day is to deal with all of our frozen gear. Despite sleeping with our water bottles buried inside our packs, they have developed a thick layer of ice crystals and are on their way to being solid ice. We hope that our water filters are okay. The inside of the tent fly is covered in frozen condensation from our breath. It falls in flakes and shards onto the sandy ground as we shake it out.
Both our shoes and neoprene socks are frozen solid this morning, too. So, for the second day in a row, we heat up water in our Jetboil to pour on them. Round one of boiling water does nothing, so we fire up the stove yet again. This time, we take advantage of the steam coming from the stove to loosen up the socks, and the second dousing of boiling water is enough to loosen the tongue and laces of our shoes just enough to stick our feet in. With solid chunks of ice on our feet, the very real possibility of hypothermia begins to enter our minds. This is totally new territory for us. The freezing temperatures are one thing, but being wet on top of that makes our situation so much worse. 
That Which Doesn't Kill Us…
We take off with grim determination and, moments later, plunge into our first river crossing of the day. What little feeling we had remaining in our toes quickly disappears. We are fording the river every 5-10 minutes, and, with each successive crossing, it feels more and more like we have heavy blocks of ice encasing our feet.
In addition, the trail is getting tougher. Clearly fewer hikers venture beyond Jordan Hot Springs. The trail is narrow, grown over, and harder to spot on the far side of the river. We have to negotiate a few downed trees. All of this slows us down and prolongs the highly-anticipated moment when we will finally break out into full sunlight and begin to recover feeling in our digits.

Hello, Sunlight!
We reach an open sandbar by mid-morning where the sunlight finally reaches the river bottom and decide to take our first break of the day. The warm sunlight feels like heaven, and, for the first time since we left the tent this morning, we can finally stop moving for a bit. We find a nice log where we take a break and soak in the precious sunlight.
After checking the map, we realize that this will likely be our last stop before leaving the Middle Fork a few bends upriver from where we are. We plan on camping atop the mesa tonight, where we won't have any access to water, but at least we will be dry! We top up to three liters each and head on our way.
The Meadows
The trail continues to follow the gentle meander of the Middle Fork until late morning when we finally turn a corner and emerge into The Meadows. Here, the canyon walls recede to reveal a flat grassy expanse. We follow the trail until we reach a gently forested area with several campsites.
The trail splits at this point into three different directions. We spot a low ridge that heads up along Indian Creek to the east, but our route up to the mesa that separates the Middle and West Forks is less obvious at first glance. Thankfully we are using the Gaia app (for the first time!), and we have downloaded the GPS tracks of a route done by a previous hiker. This really comes in handy here and prevents us from heading down the wrong path.
Since our feet are still essentially frozen, we are definitely keen on not wasting any time. We are in search of the Big Bear Canyon Trail that will lead us away from the river and up to bright, warm sunlight. Hopefully, we can generate some heat during the ascent and find a nice spot for lunch where we can warm our feet in the sun.
Farewell to the Middle Fork
According to the GPS tracks, we overshot our trail by a few hundred feet, so we trace our footsteps back and spot the trail up more easily coming from this direction. From here, it's a 1000-foot climb up on easy switchbacks as we gain ever more expansive views down to The Meadows and beyond the canyon to the greater Gila Wilderness.
When we reach the top, we stop at the first comfy log in direct sunlight, quickly get out of our cold wet shoes and shed a few layers. How glorious to be truly warm for the first time in several days! We have a leisurely lunch before heading off.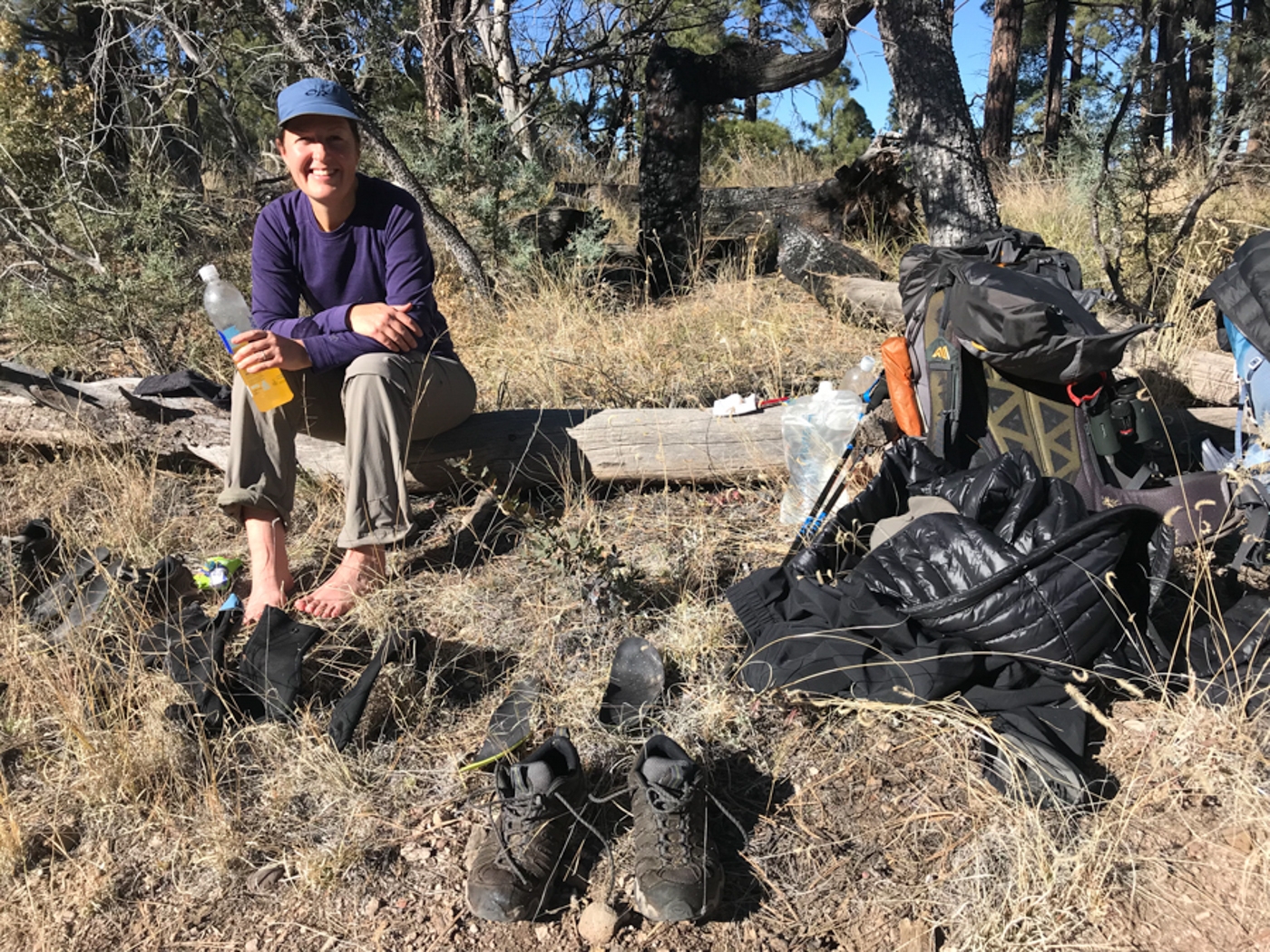 The Big Bear Canyon Trail meanders up and down over the mesa through a Ponderosa pine forest. Late in the afternoon, we pass the only other backpacker that we encounter in the entire four days we are out. He is a college student taking advantage of his fall break.
We trade intel quickly as the shadows are getting long and we all need to find camp for the evening. He is surprised to hear how cold it is down in the Middle Fork and how many river crossings lie ahead for him. We, by contrast, are thrilled to learn that we will only face four river crossings on the West Fork, which we will tackle tomorrow on a shorter hiking day.
One Last Campfire
By 4:00, we are in search of a campsite. Surprisingly, there aren't too many to be found up here. We figure that most people prefer to camp near water and must just hike up and over. But our daylight is already running out, so any flat space where we can pitch a tent and build a fire will have to do.
Just after 4:30, we see a decent option and take it. We can tell by our map that the trail starts to descend and contour around a hill from here, so this is likely our last option for camp before reaching the river 1000 feet below.
We add layers, glad to be dry for a change, then pitch the tent and gather firewood. We enjoy a hot coffee and tea as the last light of the day disappears over the New Mexico horizon. What a difference it is to be camped above the river tonight! It may not actually be any warmer, but it feels it. We can see some stars as well. New Mexico is known for its super dark nighttime skies, but we are almost at a full moon. We practically don't even need our headlamps to see.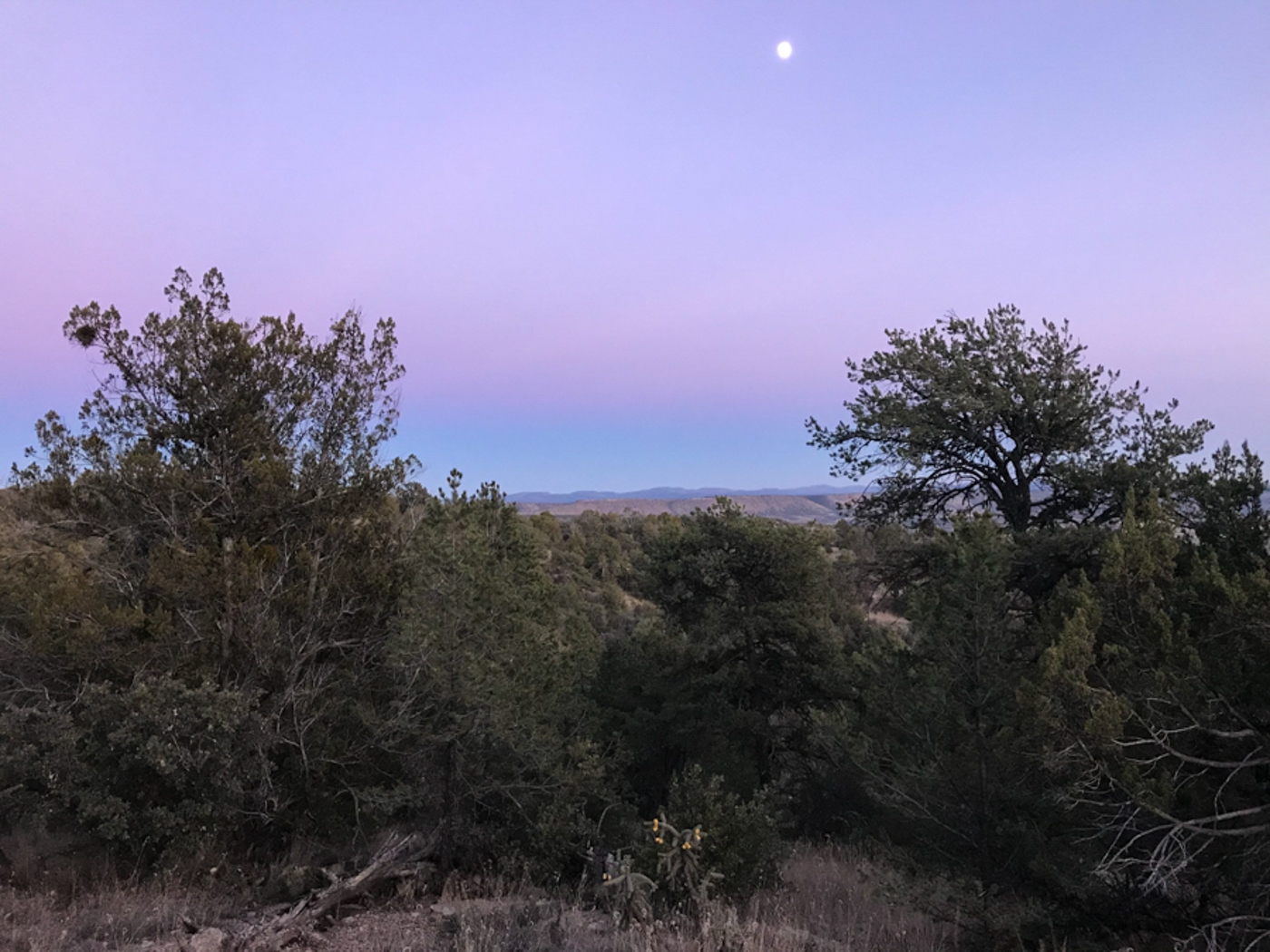 It's pleasant to sit next to the fire and eat our dinner as we watch its flames flicker in the night sky. Eventually, we run out of firewood and let the fire fade down to a pile of glowing embers, content to call it a night. We are exhausted, more from trying to stay warm all day than from the actual hiking. We crawl into our beloved sleeping bags and fall asleep contemplating the beautiful patterns of the moon shadows at play on our tent.
Guess what, friends? We have become contributors to The Trek, a super cool website dedicated to all things thru-hiking and backpacking!
This post originally appeared on The Trek, and you can read it here.