It feels like I don't sleep at all during the night, but, when the alarm goes off at 6, Matt has to shake me to get me to respond to it. My first instinct is to hit the snooze button, but then I remember that we are in a shared room in a tiny guesthouse in the remote village of Sary Mogul in Kyrgyzstan. We are starting a new trek today in the Pamir Mountains, and we are all eager to see what this new area will be like. We certainly have high expectations after our introduction to this range during yesterday's spectacular drive to Sary Mogul.
Breakfast is at 6:30, and we climb up onto the little raised eating area, gathering around the giant square table for eggs, fried bread and fresh veggies. After eating we gather up all of our belongings for the trek and give Timu our sleeping bags and gear for our new team of porters from Visit Alay to carry. There are three of them in all, in addition to our guide Timu, so we hope the weight they are carrying will be a little more manageable than it was on our last trek.
Once everything gets arranged, we pile into two cars. Rob, Amy, Matt and I are in one car, while Timu and the three porters are in the other. We stop at the gas station for some fuel and then turn onto a rough dirt road and start driving toward the mountains.
Every single car we have ridden in in Kyrgyzstan has had a cracked windshield, and this one is no exception. It's all part of the charm of this crazy country, but, in this particular case, it's a shame because the alpine scenery we are driving through is so spectacular. Why are we even bothering to hike when we can see such beautiful scenery just driving around? I say, half joking and half totally serious.
I keep expecting that we will catch up to Timu's car, which has been MIA since the gas station. We have been driving to the middle of nowhere for at least half an hour now, and Timu and the gang are still nowhere in sight. Who knows where we are headed. Our non-English-speaking driver suddenly does a U-turn, stops the car and cuts the engine. He looks at me with a We're here! sort of look. Where's Timu? is all I can think.
There's no way we should get out of this car until Timu comes, I say to the gang. We all nervously laugh and joke about how we have no idea where we are or where to go or how to even ask the driver anything about it. Our driver gets out and starts unloading our bags onto the grass. It looks like this is definitely the end of the road for us, ready or not. We pull out the trail map and gesture at it, making guesses as to which way we should go, hoping to stall for a little time before he drives away.
Luckily, the driver seems like a nice guy and isn't too eager to abandon us. Even so, we all breathe a sigh of relief when Timu's car shows up, and he and the porters pop out. We pose for the requisite Day 1 photo, thank our drivers for the lift and start walking.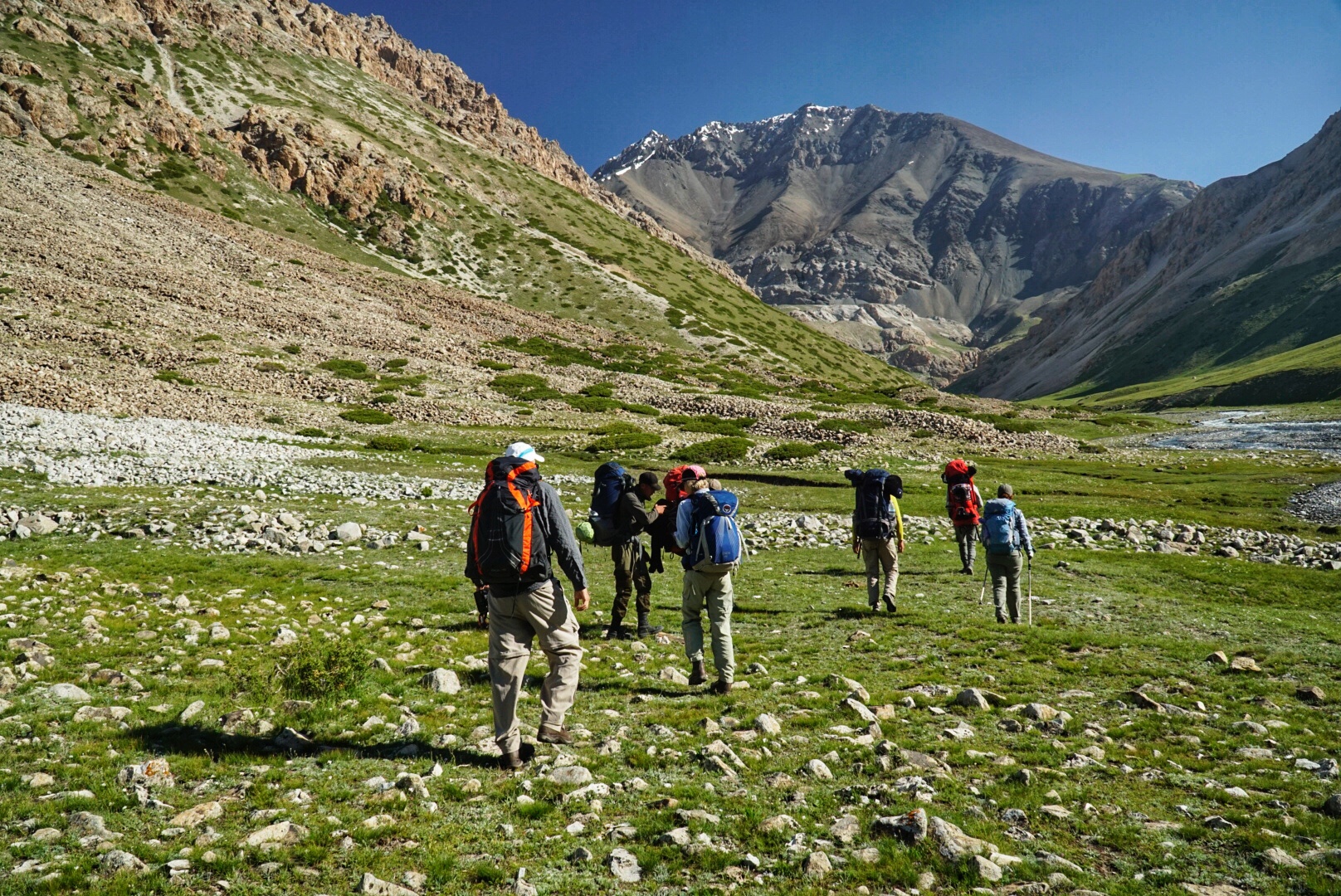 The landscape here is totally different than the other places we have hiked in Kyrgyzstan so far. The mountains have a reddish tint to them and look like something you may find in Colorado or Arizona. We've seen very little of this country, yet we have been amazed by the diversity of the scenery almost everywhere we go.
We make a beeline toward the river and pick up the trail there. At first, it is quite pleasant, and we chat excitedly, trying to learn the names of our new team of porters: Maksat, Atabek and Kanatbek. Within minutes, the canyon narrows, and we are forced into a single-file line as we contour the base of the canyon wall on a narrow ledge that often takes us right down to the water's edge as we work our way up the canyon.
Eventually the trail begins to take us. high above the water and up into the craggy mountains, where we earn a spectacular view of the river we were just walking beside snaking its way through the canyon far below. Everyone has their packs off and is enjoying a break when Matt and I catch up to them, so we join suit. The porters are taking photos of themselves with their smartphones from various viewpoints. It's always nice to see the locals enjoying the scenery as much as we do. I offer to take a photo of the three of them, and then they want one with me in it, too.
After our break, we continue ascending up, up, up, and the scenery continues to impress the higher we get. As a group of eight, it is difficult to stay close together. With different paces and different goals of our journey, our group accordions in and out as we continue gaining elevation. The porters, who must be carrying at least 45-55 pounds worth of gear, prefer to hike fast and rest often. We prefer to walk slow and steady, stopping for numerous photos, so we are playing a constant game of leapfrog.
After gaining so much elevation, the trail descends 100 feet or so to another river. This branch is in an open valley of shale rock, and we clink along as we make our way upstream. Timu is ever-interested in impproving his English, and so we teach him many new words as they present themselves along the trail: cairn, arrow, scree are all added to his ever-expanding vocabulary. He wants to know what all of the loose flat rocks we are walking on are called, and we are all at a loss. Talus! The word is talus. Man, talk about a specific vocabulary!
Whenever the opportunity arises he asks us to write down the words in his phone, so that he can remember them. He even tries to use the words in a sentence as quickly as possible. The arrow is pointing between the two cairns, he says with a hopeful look that he is correct. His dedication to learning our language is just one of his many endearing qualities.
Again the walls of the valley we are walking in begin to pinch in, and the trail snakes along right at the water's edge. We alternate between walking through the water where it is shallow enough or scrambling up and over the canyon walls when the water gets too deep. If the water were flowing any higher, this section would be a real challenge. We wonder if there is an alternate way around. I suppose this is where having a horse would come in handy.
After clearing the river, we do another steep rise and come to a commanding view over a large open meadow. From here, we can see another hiking group below us. Timu points out the trail to Sary-Mogul Pass, which is still another 1500 high feet above us.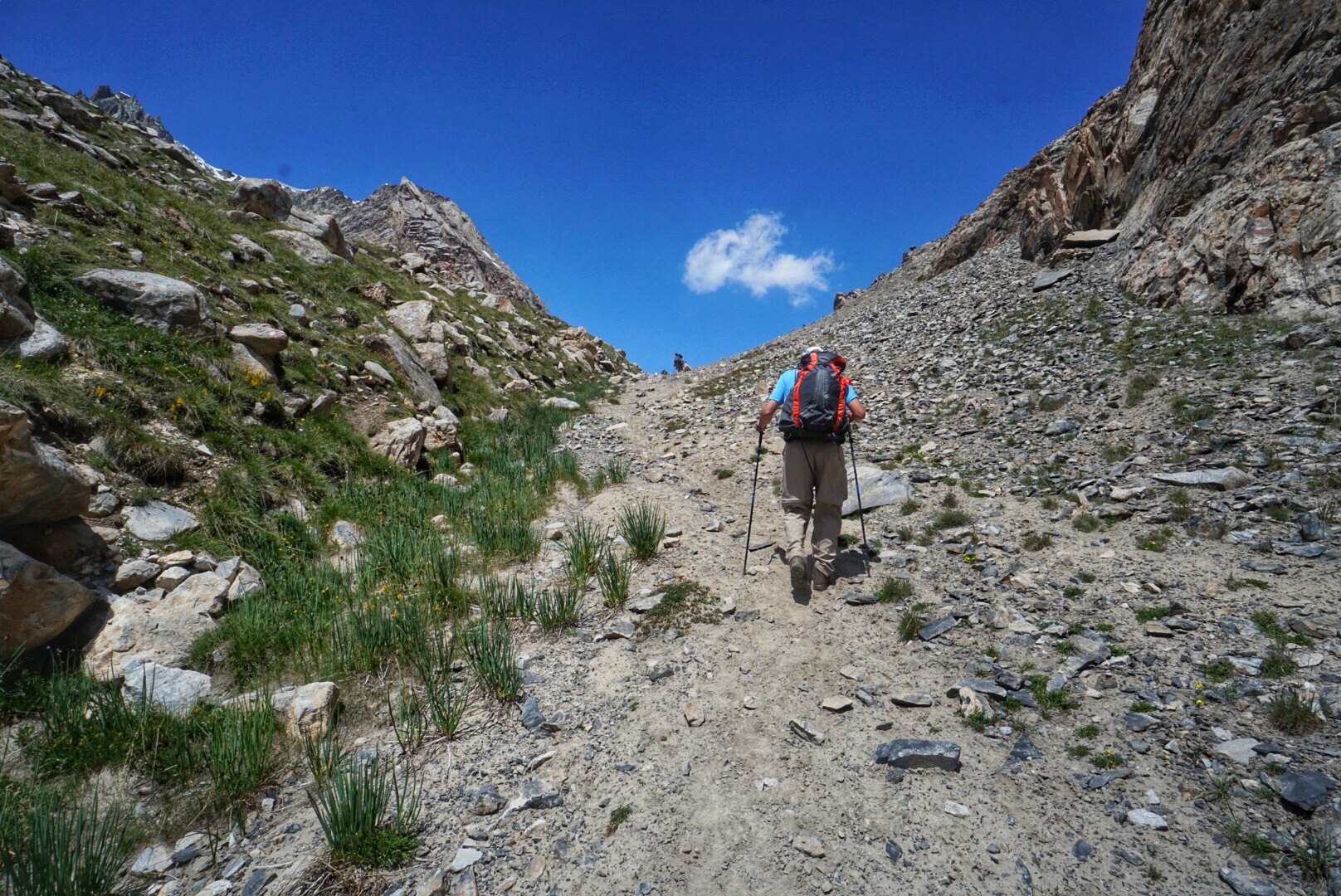 We try to follow the trail as it climbs up above the valley, into a higher level. We lose sight of it as it makes its way over the rocky wall at the far side of the meadow. Eventually we find a light-colored trail that rises steadily from right to left along the wall. It looks pretty manageable until the very end, when it takes a sharp right-hand turn and goes straight up to the pass. It looks impossible from our vantage point, but we see a few people milling about up there when we look through the binoculars, showing us it is doable. We definitely have our work cut out for us!
We descend into the meadow, filled with flowering wild onion plants, and come to a large rock that has the words "lunch spot" painted on it. Timu says that there may be other spots farther ahead, but they tend to be cold and windy and not close to a water source. This will be our best choice.
We are always game for resting and eating, so we don't argue and drop our packs before going to the stream to top off our water bottles. By the time we get back, the porters are sprawled out in the grass, napping and waiting for lunch. I find the bag of kurut that the shepherdess gave us yesterday and offer it to our crew. They all perk up at the sight of the white, fermented cheese balls and seem especially grateful for the savory snack.
For lunch, we have the typical Kyrgyz spread of bread, nuts and dried fruits followed by a salad of fresh tomatoes, cucumbers, cabbage, corn and peas. Of course, no meal is complete without hot tea, and the boys are carrying a stove especially for that purpose, so we enjoy a cup of tea out in the field before packing things up. How civilized.
After lunch, we keep ascending up into a grand plateau where we find a hidden glacial lake at the base of the glacier-covered peak to our left. There are mountains all around us, and we have a 360 degree, surround-sound view of everything from where we are right in the middle. It is an incredible place to be, and the stunning scenery almost makes us forget the tough work that we still have ahead of us.
The porters are now consistently lagging behind us, and they collapse onto the rocks as soon as they catch up. We are in no hurry to leave this spectacular spot, so we take oodles of photos while they catch their breath and recover their energy for the final big climb up to the pass. I am really starting to get worried about them. What if they quit? I certainly wouldn't blame them, but What would we do then?
Luckily, they carry on, and we all begin the final push up to the pass. As usual, the team spreads out as we make our way across the plateau to pick up the trail up the wall.
We are surprised to find that it is made of loose talus and ascends at a pretty gradual grade as it slowly traverses the wall. I could take this kind of gentle ramp all day, but the real challenge comes at the end, when the talus suddenly turns to scree and the pitch becomes most unwelcoming.
Every step here becomes a struggle, and it's hard to keep my feet moving with all of the huffing and puffing I am doing. Matt tells me momentum is the key here, so I try to keep moving no matter how impossible the footholds feel. Sure enough, he is right, and I breathe a big sigh or relief as the trail flattens out at the top.
It is here that we finally get a chance to enjoy the fruits of our labor and see the incredible panorama of snow-capped mountains stretching out alongside us. We stop for some photos, but my legs are shaking, standing on this narrow catwalk high above the plateau below. We keep shuffling along this tiny, slippery ledge until we get to a little sheltered cove where we find Rob, Amy and Timu cheering us on.
Rob is sitting on a rock out of the wind and invites us to join him there. I notice the beginning of the snowy descent out of the corner of my eye, and, when I mention it to Rob, he tells me not to look or think about it just yet. We should take some time to rest and celebrate the accomplishment of making it up to 14,100 feet.
I decide to follow his advice and try to get my breathing back to a normal pace. We decide that it would be wise to eat an energy bar before attempting the descent. The porters finally make it to the top and practically collapse on arrival. Amy hands out chocolates to everyone, and I follow up with kurut. They seem desperate to consume calories.
After everyone seems to have enough of their energy back, the moment I have been dreading arrives, and everyone starts getting ready for the big descent. We can see a lot of snow at the top, so Matt wants to use the plastic grocery bags we collected in Karakol to add some water resistance for our non-waterproof shoes. I am a little nervous that having the layer of plastic between my socks and shoes will add an unwelcome slippery feeling as we make our way downhill, but Matt tests it out and says he doesn't even notice them. I decide to give it a go.
Timu has decided that we will go down as tourist, porter, tourist, porter, so that we each have someone to help us on the descent. Rob and Amy are first, then me, and finally Matt with a porter in between. It's rough right away with ice and slushy snow. Atash is assigned to me, but he quickly figures out that I am going to be too much to handle and yells down for Timu to switch places with him.
Timu runs back up to me and talks me through the snow. I am scared as hell to move, and this kid is telling me that he will catch me if I slip. He stands backwards to the mountain and kicks steps into the slushy snow telling me to step into the flat spaces that he is creating. Even so, it's slippery and icy, and I sit down in the wet snow in the places that freak me out. We were all worried about our feet getting wet, but it's too bad I didn't have a giant plastic bag for my bum because my pants and underwear are soaked.
We are on the north side of the mountain, and Kyrgyzstan had a big snow year this winter. The trail down would be tough under normal conditions, but, currently, it is practically non-existent. The trail we are on was carved out of the snow, and it leads us to a scree chute to the left of the steep snowfield that covers where the trail is supposed to be.
Rob and Amy are already making their way down the chute when we finally get through the snow. We see a loose rock go flying down the slope headed right toward Rob when we reach the scree. Timu yells "Rock!" and everyone below looks us. The loose rock passes within a few feet of Rob who manages to dodge it before it crashes into the snow. At that point, we decide to wait until their foursome clears the path below, so that we don't accidentally dislodge something that will hurt them.
We stand their perched at a severe angle as we wait for them to clear the trail. After about 15 minutes, it's finally our turn, and we start sliding our way down the scree. This slope is like the descent we did on Ala-Kol on steroids. It's steeper, longer and even more terrifying, and I desperately want it to be over.
Timu is my hero, guiding me and holding my hand the whole way down. With each step, the rocks and scree give way under our feet until we slide to a stopping point. At times, I skid further than anticipated, and Timu takes his top foot and digs it into the sliding scree to make it stop.
Slowly and carefully we make our way down the narrow chute, changing directions every few feet when we run out of space. It's exhausting for me to do this, so I can't even imagine how Timu, Matt and Kanat are feeling as they patiently wait for me to make my way down in this fashion for almost 300 feet. It feels like it will never end.
Just before reaching the end of the chute, we hit a patch of scree that is particularly wet underneath, and most of the scree goes sliding down, exposing bare mountain and a little stream of water below. We make our way through that, but, just before reaching the snow, we hear the sound of the rocks sliding above us and watch as they start rippling from the top, gaining momentum and speed as they come towards us.
As the wave of sliding rocks gets closer to us, I yell out, and Matt starts screaming Stay on top! Stay on top! I pull my buried feet out of the rock pile as fast as I can, only to have them instantly covered in sliding rocks and scree again. Somehow, we all manage to move to the edge of the snowfield, just as the rocks come to a halt. Scary!
From there, we make our way down to a series of switchbacks that have been dug out of the snow on top of the scree field. We follow the track for another 100 feet down until it eventually deposits us at the base of the wall where Rob, Amy and the gang have been waiting for us.
I am thrilled and relieved to be down, but mostly I am grateful to Timu for helping me get there, safe and sound. I have tears in my eyes as I thank him for all of his help. I don't think that he knows exactly what to make of it, but I know that I will forever be grateful for his help.
After a short break, we start making our way down the valley. The trail is a normal downhill grade, and it feels good to be walking on something that is in my comfort zone again.
Unfortunately, it doesn't last for long as we encounter a swollen river that we need to ford. We walk up and down the river looking for a suitable place to cross, but the only halfway decent place we can find appears too risky. Timu and the porters collect small boulders, placing them in the roiling river in an effort to make the required leaps more manageable for us, but the power of the water twists and turns them and makes them difficult to place.
When they finally get them arranged, they take our bags across and signal for us to come. Timu and Max are there to help with the first two leaps. Rob and Amy go before we do and make it to the enormous boulder in the middle of the river. It's my turn next. I am scared, but there's a little part of me that wants to redeem myself from the descent down the pass, so I just go for it.
With the boys' help, I land on the edge of the boulder and climb up top, where I find Amy standing and looking for a place to jump across the next channel. Standing on the boulder, we are much higher than the rocks on the shore. It's a big leap, and the water is racing below us. Rob has made the jump, but neither of us is sure of what to do. Rob is yelling and trying to tell us where we should go, but the sound of the water is so loud that it's difficult to hear him, much less think.
Matt, Timu and Max have made it across to the boulder now. Max leaps onto the rock with rushing water on it and stands with his arm extended. Somehow, Timu manages to straddle the boulder and the rock at the same time, so that we have support on both sides.
Again, I try not to think about what I am doing too much, and I go for it. What a relief it is to land on the other side! Amy and Matt follow suit, and, once we are all across, we have to administer a little first aid to Timu who sliced his finger open when he was shifting the boulders around in the river. This day has already been full of drama, and it's not even close to being over yet.
We're all pumped full of adrenaline as we continue down the trail. We run into a huge herd of yak who take offense to us walking through their meadow. They're a little frisky, kicking their hind legs up as a warning to stay back, as we approach. Timu grabs a large stick and shoos the close ones away as we walk through. Even so, every now and then, a bold one charges at us from the side or from behind, so we are ready to defend in every direction. I hold up my hiking poles pretending like they are some kind of weapon, and, lucky for those yaks, I never have to use them.
Our next obstacle is another tough river crossing. Again, it's difficult to find a good place to cross, and we all try different strategies. The boys decide on a spot that's a little too wide for a leap, so they start building a rock bridge to narrow the gap.
The bags they are carrying are at least 50 pounds each, and they don't think they can make the jump while wearing them. Timu fords the river upstream and then stands on the rock across from the porters. They start stripping all the gear strapped to the outside of their packs, like tents and sleeping pads, and throw it across to Timu. Once that's done, they throw the heavy packs across. Somehow, Timu is able to catch them. These guys are crazy.
Rob and Amy head upstream looking for a spot where they can rock hop without getting their boots wet, but Matt and I decide to just bite the bullet and ford the river with our shoes and socks on. We find a spot where the river is split into two channels.
The first channel doesn't present much of a problem, but the second appears more challenging. We lock arms and step into the rushing water. It's freezing, and the current is strong. Matt is faster than I am, and he grabs my hand and pulls me through the rapids to the other side.
We still have the plastic bags on our feet from the first river crossing, which are now only trapping the cold water around our feet. We take our shoes off as quickly as possible, strip the bags off our feet, and dump the cold river water out. Adrenaline is our friend again and helps us through the burning sensation we feel from the cold.
There's a third and final river crossing later down the trail. This one is made up of several braids on a wide, rocky plain. Now that our socks and shoes are thoroughly soaked, we plow through the channels, picking the path of least resistance. Our feet are so cold they practically burn, and we pace back and forth on the far bank to restore feeling and wear off the pain as we wait for the others to join us.
It's not that far from there to the yurt camp, which is definitely a sight for sore eyes after this very challenging day of hiking. There is a group of 13 Belgians with their guides and porters already there when we arrive late in the day. They are set up the guest yurt and tents around camp, so we will be sleeping in the kitchen yurt tonight.
It's super warm with the coal stove cranking out heat in the tiny space. Our hostesses, a pair of kind sisters in their fifties (we presume), encourage us to take off our wet shoes and socks and place them next to the warm stove in an effort to dry them out. We surround the little metal stove with precariously placed stacks of hiking shoes facing the heat source.
Our stay at the yurt begins with a fancy tea party, where our hosts spread out a pretty square-shaped sheet on the ground and then surround it on all sides with thicker cushions for sitting. In the middle, they place round homemade loaves of bread and piles of borsok, the beloved fried dough squares that are the national bread here. Surrounding that are tiny bowls of jam, cream and candies placed all around the sheet for guests.
Soon after gathering around the space, the hostess brings us hot tea that is served out to us by Timu in little bowls that are constantly refilled throughout the affair. It's a lovely ritual that feels like such a luxury to us while trekking. It's certainly not something we are accustomed to while backpacking.
After tea, we clear the tent while our hostesses make dinner. We get a chance to speak to the Belgians for a bit who are doing the trek in the opposite direction. They started their trek by going over Jiptick Pass and will end it by going over the north side of Sary Mogul Pass, which blows our mind.
We don't want to freak them out, but we can't imagine how they'll go up what we just came down, especially as such a large group. Jiptick Pass is the other big challenge on this trek, so we try to get the skinny on that. They say it is steep and snowy on the shadow side that we will have to ascend, but Timu insists it is not as bad as Sary Mogul, which is what I choose to believe. I hope he is right!
For dinner, we are served a delicious bowl of homemade bean and noodle soup that warms our tummies. Again, we clear the yurt, so that the dining area can be cleaned up to make room for our sleeping area. The women lay out thick bed mats and place pillows and even their coats below them to make a raised platform for our heads. We use our sleeping bags for bedding, but it's nice and toasty in the yurt, so we don't even need to zip them up.
Just before bed, Timu tells us that our hostesses will need to start prepping the stove for breakfast quite early in the morning. How early? we ask. Not before 5 or 6 we are told. They will work quietly. It's not ideal, but there's not much we can do about it. As tired as we are after this epic day, we figure we'll be able to sleep through anything. We shall see.